Plaque News
IWA Manchester have donated a heritage plaque that will be installed on Bridge 11A which is the entrance to the Manchester & Stockport Canal from the Ashton Canal. They will donate a second plaque at a future date that will be installed on the Hyde Road (A57) westbound carriageway.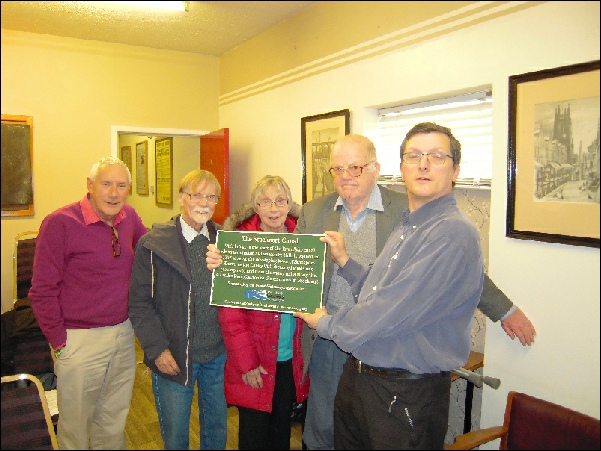 The plaque being presented to the Manchester & Stockport Canal Society by IWA Manchester.
Read All About It.
The Stockport Express dated 6th September 2015 report on the unveiling of the heritage plaque in BroadstoneMill, Reddish, Stockport
May 2016
VIABILITY OF THE CANAL WHEN OPENED
The Moss Naylor report on the viability of the canal is now available. Click here to view.
HERITAGE PLAQUES
The plaques program is in its final stages and all have now been purchased and will be erected in the near future.
CONTACTS WITH OUR STAKEHOLDERS ABOUT RESTORATION
A start has been made on this and it's hoped that they will start to be productive later this year.
FUN DAYS AND OUR EXHIBITION STAND
We hope to post the dates for events in Manchester and Reddish shortly.
MANCHESTER UNIVERSITY
Manchester University students are about to complete a report on the reconstruction of the canal aqueduct over the railway 400 metres north west of North Reddish station.
Last year the students completed a report that introduced the idea of locking down into Lower Gorton reservoir and up again to continue to Stockport together with thoughts on obtaining a water supply from the Upper reservoir. This report has been forwarded to our stakeholders for appraisal.